Total Body Tabata™ LIVE Workout Series - Episode 1
Join Autumn and Vicki at The SeattleGYM as they lead you through a LIVE Total Body Tabata™ class. This workout is full of challenging exercise combinations for all levels applying the unique Total Body Tabata™ recipe, to keep you motivated and focused till the end. Order a Total Body Tabata™ LIVE workout today and feel the results!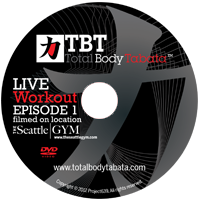 Total Body Tabata™ LiVE Episode 1 Workout Equipment Needs
Step (all exercises can be performed with out a step)
Resistance Band – Medium strength
Pair of Dumbbells – 3, 5 or 8 lbs
Two Felt Squares (or two paper plates)
As you master the exercise form you can increase your range of motion, speed of movement and use more equipment options to add intensity to your workout.
Price: $9.99